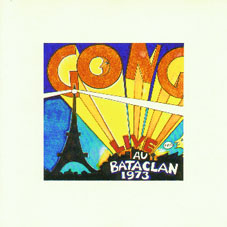 Gong Live au Bataclan
Released in 1989
by Mantra
Strange one this , I discovered this record in a shop!
No-one from GONG thought about asking me !
Especially not when there was an advance to share!
There is a long intro 'the other side of the sky"
And they didn't even declare it ( 11mins)
Prefering to declare a mamouth version of 'Dynamite '
and there You have it ! Embezelment "en direct".
Good thing GONG is a familly yes !