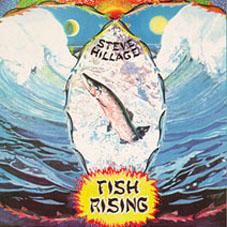 Steve Hillage
Fish Rising
Produced in 1974 by Steve
Released by Virgin
Tim's Comments:
A lot of the music on this record was written & played during
the 'Para'GONG period. Steve is one of the musicians
I have felt closest too, and I'm very proud to be the synthesiser
player on this ,his first solo album. It's also the only studio
recording feauturing the 'Para' GONG line up.
The 'solar music suite' - 'I love it's holy mystery' ,
always a good part of '73-'75 Gong concerts,
the incredible "Dervish Riff" put together at the
same writing session as master builder ('the om riff')
and 'Sprinkling of Clouds'
'Afta Glid'- Is a great classic of 'advanced om rock"
Unfourtunately, Steve & I have never collaborated
again in or outside GONG, so
for me this is a precious album!.

HEY STEVE, I'd love a copy !