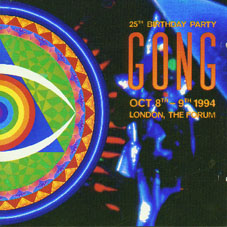 GONG 25
The Birthday Party
Released in 1995
by Voiceprint/Gas
The Live recordings of the two 1994 reunion gigs have
the amazing advantage that, ,they are handled by Robin Aylings
VOICEPRINT records,
as decent a bunch of people as I know.
As a result, this is perhaps THE ONLY GONG RECORD to pay
full royalties to this Artist!
If You can face hearing the "Same Old Set" again,
We certainely can recommend you buy this record !