"Light that Shines through Darkness"

In 1971 Tim Blake met the French Light Artiste
PATRICE WARRENER.
Together with others, they formed the

"CRYSTAL MACHINE "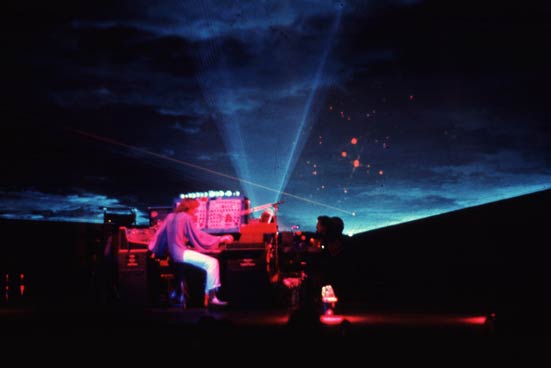 Crystal Machine - Tim Blake & Patrice Warrener
- Theatre Romain Rolland Villejuif - 1978 New Jerusalem World Tour - photo : Sylvie Herbert -
The world's first organisation dedicated to
Electronic Music and Light ,
featuring, Lasers, for the first time ever !

When Tim left GONG in 1975,
CRYSTAL MACHINE set out on a series of
one week installations in cinemas and theatres including,
both in 1976 & 1977,
the Parisien Theatre "Le PALACE"

In 1978 & 1979 Crystal Machine toured intensively,
with shows in:
France, Spain, Japan, Holland,
& the 1979 Gladstonbury Festival
Le Palace 1977 ----- Japan 1979