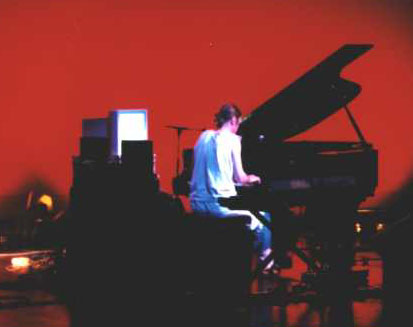 The Tide of the Century - Tim Blake on tour
Dr Teknical's Concert Page
Instruments & Sound Equipment:
As A General Rule :- The Promoter Supplies :
Piano - Baby Grand or above (Piano will be miked) of the following marks
Kawai - Yamaha - Steinway . A proper Piano Stool must be included.
The Piano must be tuned on delivery AND on the afternoon of the concert before soundcheck.
(The Piano Rental guys usually arrange this.)
Sound System : A 'competent stereo sound system ' for the venue with Stereo Monitoring. (2 or 4 speakers , )
Mics :- Tim uses 2 vocal mikes ( Keyboard position & Piano) & 2 Boom Stands
We mike the piano, most often, with 2 crown mikes ( Soundboard and Lid) .
Echo Unit: A Roland Se 70 or similar - with , at least 500ms of Stero ping -pong echo
Reverb etc
Blake can offer MIDI control to the Roland unit
Tim Blake travels with the following equipment:
Mac G3 Computer/
including Sound cards & Disks
Running CU-BASE VST 24 (4,102)
MOTU "micro express" MIDI unit (4 in - 6 out)
Mackie Cr1604-vlz desk for on-stage
Keyboards :- Racked Synths:-
Emu Proteus MPS Roland D-100
Yamaha ANX- 1Korg Wavestation A/D
STANDS etc : Wooden custom Rack & Mixer stand
Computer Sits on it's flight cases
Double Keyboard stand or 2 keyboard stands.
Tim OFTEN carries his own on stage monitoring for his desk
(Ns10s in Hi-Fi Theaters - Altec 1202 in Rock Concerts)
THE ABOVE IS FOR CONCERTS INVOLVING TRUCK RENTAL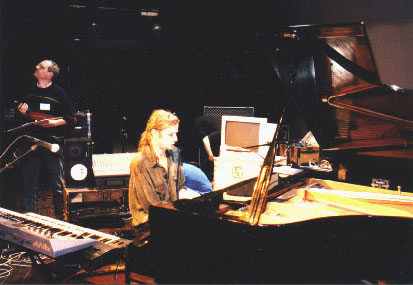 Stage Lighting is Left to the venue - unless it's a Crystal Machine concert.
SPECIAL SITUATIONS:
U.SA. JAPAN AIR TRANSPORT:

STANDS The "X" Keyboard stands are common, and the Wooden Stand can be cheaply put together;
COMPUTER For the Two magick tours of the USA- we used an americain computer. The are specifications here !
It has been suggested that an identical computer is used , and we just slip in Tim's Disks and Sound card.
Instruments - Most of Tim's Equipment can be rented in the USA, and re-programmed by tim's computing
In this case - probably for a tour of 4-10 dates, a rehersal to iron out the bugs is hoped for!

SOUND OUTPUT
The Mackie Desk will allow for Multiple/grouped or stereo output of the synth-computer to the
Venue's sound desk. (8 -4-2) or combinations. A lot depends on the amount of soundcheck available.
The two Vocal mikes & the two piano mikes go to the venue sound system in the usual way.
In VERY LARGE rock Concerts, Tim has used Yamaha Cp88 Pianos or even Digital.
For 'theatre ' concerts this is a shame !